Several European Pilot Lines, which help companies take photonics technologies from lab into market, have been launched by the Photonics Public Private Partnership (PPP). The Pilot Lines mean that companies will be able to take their good ideas, scale-them up and validate them with the first customers for commercial production.
This includes the thousands of high tech SMEs in Europe who often lack access to advanced, cost-intensive infrastructures and expertise needed to manufacture new and innovative products.
In the following you will find all information on the pilot lines and other Photonics PPP projects which support companies in the European Union.
© PhotonHub
In order to accelerate the uptake of photonics technologies by European industry, and thereby help to boost competitiveness and to foster new business and business models, PhotonHub Europe has established a unique European full-service one-stop-shop Photonics Innovation Hub in a manner which is deeply rooted within the wider ecosystem of innovation hubs and manufacturing right across the European continent for maximum coverage, leverage, impact and long-term sustainability.
As the pan-European innovation hub dedicated solely to photonics as a key digital technology, PhotonHub provides European photonics and non-photonics companies, in particular SMEs and mid-caps, with open access and guided orientation to a broad range of services and capabilities covering:
"test-before-invest" innovation support capabilities along the full TRL and MRL value chain such as expertise, design, prototyping, experimentation, engineering and pilot manufacturing with further guidance to manufacturing in Europe;
training and upskilling opportunities for both technology- and application-specific learning using lecture-based tutorials and hands-on lab-based training within the hub's Demo and Experience centres, as well as virtual online classrooms and a digital catalogue of local training opportunities;
business support services including IP advice, business coaching, and support to find investment from venture capital and other public and private regional and European sources of innovation funding;
seamless links to targeted value-adding opportunities in the wider innovation ecosystem across all European regions, cluster organisations and digital hub networks.
More information on PhotonHub website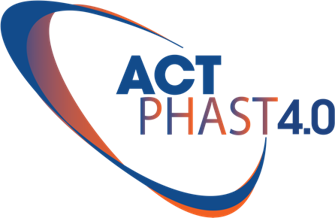 © ACTPHAST 4.0
ACTPHAST is Europe's one-stop-shop support centre for next-generation product innovation using photonics. ACTPHAST provides open access to the full supply chain of cutting-edge photonics technologies from 24 of Europe's top research institutes through a single streamlined support centre, funded by the European Commission under Horizon2020. ACTPHAST supports industry, and SMEs in particular, through the ACTPHAST 4.0 photonics innovation incubator, as well as researchers in academic institutes through the ACTPHAST 4R support centre.
ACTPHAST 4.0 supports both photonics and non-photonics companies all across Europe to get new photonics-enabled products from concept to prototype by removing the major innovation roadblocks for companies, especially SMEs, in using cutting-edge photonics technologies, in particular by lowering the risk (ACTPHAST does the matching between the business challenges, and the best photonics experts and technologies to solve them), lowering the cost (75%-100% subsidy for SMEs), reducing the administrative burden (ACTPHAST does most of the paperwork), and delivering faster results (ACTPHAST completes innovation projects with the supported companies within 6-9 months). ACTPHAST 4.0 typically operates in the Technology Readiness Levels (TRLs) 3 to 6.
ACTPHAST 4R (For Researchers) supports both photonics and non-photonics researchers all across Europe to demonstrate their conceptual breakthroughs with industrially-relevant equipment and drive new product innovation enabled by advanced photonics through a combination of internships at the top European research centres of the relevant photonics technology platforms, hands-on working with the advanced photonics technologies, and deployment coaching in entrepreneurship by experienced business development experts. ACTPHAST 4R typically operates in the Technology Readiness Levels (TRLs) 2 to 4.
Find out more on the ACTPHAST website.
© LYTEUS
PI-SCALE, recently rebranded as LYTEUS, offers world class capability in pilot production services for customised flexible OLEDs (Organic Light-Emitting Diodes). The technology provides large area, energy efficient light sources that are ultra-thin, flexible and lightweight. These can be made in any shape or colour and in a large range of sizes allowing new opportunities for customers to create high value-added products in numerous application areas ranging from architectural lighting and automotive to aerospace and consumer electronics.
LYTEUS enables companies too quickly and cost effectively test and scale up their flexible OLED lighting concepts and turn them into market ready products.
Find out more on the LYTEUS website or the PI-SCALE website

© MIRPHAB
MIRPHAB is an EC funded project with the goal of creating a commercially viable pilot line for the fabrication of mid-infrared sensors that is ready for business by 2020.
There is a growing interest in achieving new chemical sensing devices able to provide enough roughness, in-situ detection and selectivity.
These new tools should be easily integrated in other systems; to analyse the quality and composition of the products at the petrochemical and pharmaceutical industry, to evaluate harmful emissions in automotive and environmental monitoring, and to provide with non-invasive devices the medical diagnostics field. One could even dream about sensors integrated in our fridges scanning for bacteria that would notify about which foods are in bad conditions.
Find out more on the MIRPHAB website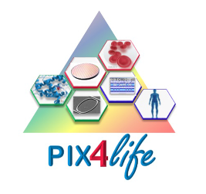 © PIX4life
In PIX4life we aim to mature a high performance, high yielding and CMOS-processing compatible SiN Photonic IC pilot line together with the accompanying supply chain for applications in the visible range (400-1000 nm) in order to become the world's premier pilot line for multitype integrated biophotonic applications.
PIX4life will enable miniaturizing and increasing the cost effectiveness of bulky, expensive optical life science systems. We will pave the way towards making the platform available in open access for a broader number of customers from the (bio-)photonic and life science communities with industrial development in mind.
Find out more on the PIX4life website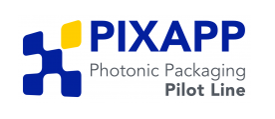 © PIXAPP
PIXAPP is the world's first open-access Photonic Integrated Circuit (PIC) Assembly and Packaging Pilot line, and helps users exploit the breakthrough advantages of PIC technologies.
PIXAPP consists of a highly-interdisciplinary team of Europe's leading industrial & research organisations, and provides users with single-point access to PIC assembly and packaging.
The Pilot Line Gateway Office is PIXAPP's the easy-access interface for external users, and is located at the Tyndall National Institute, in Ireland.
The Gateway is managed by an experienced team, including technical experts to review incoming user requests, and project managers to organise the PIXAPP supply chain.
PIXAPP bridges the 'valley of death' often associated with moving from prototyping to low-volume fabrication, by giving companies an easy-access route to transferring R&D results to the market.
Find more information on the PIXAPP website
© JePPIX
The JePPIX Pilot Line is the EC Manufacturing Pilot Line project for photonic integrated circuits. It is the Indium-Phosphide Pilot Line for up-scaled, low-barrier, self-sustained, PIC ecosystem
InP photonic integrated circuits (PICs) offer game changing performance capabilities across multiple market sectors. The JePPIX Pilot Line is the EC Manufacturing Pilot Line which puts in place the technological and operational processes to:
Accelerate the uptake of PIC technology in new markets
Align scalable and inter-locking services and value chains
Accelerate time to market with predictive design for fewer and faster design cycles
Offer foundry processes at TRL7, sharing process optimization across products
The JePPIX Pilot Line combines low entrance-threshold, mature-manufacturing to enable tens of European PIC innovators. Its partners already play a pioneering role in open access InP PICs. The technology is available for experimental prototypes through JePPIX.
The JePPIX Pilot Line enable high TRL development in a scalable design kit driven process, driving open access InP PICs from proof of concept to industrial prototyping and pre-production.
Find out more on the JePPIX website.

© MedPhab
MedPhab serves as Europe's first pilot line dedicated to manufacturing, testing, validating and upscaling new photonics technologies for medical diagnostics enabling accelerated product launch with reduced R&D costs.
The MedPhab operation process and technology readiness will be validated by upscaling and demonstrating the performance of five innovative medical diagnostics products. A demo case open calls programme will also facilitate the early adoption of the technologies by external users.
© Phabulous
PHABULOµS is the European one-stop shop for the manufacturing of free-form micro-optics offering accelerated innovation & production cycles from prototypes to piloting and large volume production.
Lighting and detection systems and other photonic and optical applications require free-form micro-optical structures. In fact, the industrial demand for free-form microlens arrays (FMLAs) is a current market reality.
The EU-funded PHABULOUS project will create a self-sustainable pilot line for the design and manufacturing of FMLA solutions and their integration into high added value products.
The overall aim of the project is to help mature the FMLAs' manufacturing processes and functionalities and increase manufacturing readiness; this will be achieved by adapting predictive algorithms into simulation packages and optimising different ultraprecision micro-machining technologies for the origination of high-quality FMLAs.
The project will also implement six industrial use cases demonstrating pilot manufacturing in their operational environment and establish an open-access, sustainable, distributed pilot line infrastructure with a single entry point.
Find out more on the Phabulous website
© OIP4NWE
The Interreg NWE project OIP4NWE aims at establishing an open innovation pilot line for the development of generic photonic integration technology. Integrated photonics is the emerging technology where the manipulation of light takes place on a chip, making the components an order of magnitude cheaper, smaller and more energy-efficient compared to today's solutions. By providing these services to SMEs across Europe, the project reduces PIC access barriers and strengthens the competitiveness and innovativeness of European SME sustainably on the global markets.
As application of PICs grows, North-West Europe needs to stay ahead. Therefore, intense collaboration between innovation stakeholders at transnational level is an important goal of the project. In OIP4NWE, equipment manufacturers, a pure-play foundry and researchers collaborate to establish an infrastructure and processes dedicated to the pilot production of photonic integrated circuits (PICs) based on Indium Phosphide. The capabilities will include packaging and external optics as well.
Find out more on the OIP4NWE website