Four European Pilot Lines, which help companies take photonics technologies from lab into market, have been launched by the Photonics Public Private Partnership (PPP). The Pilot Lines mean that companies will be able to take their good ideas, scale-them up and validate them with the first customers for commercial production.
This includes the thousands of high tech SMEs in Europe who often lack access to advanced, cost-intensive infrastructures and expertise needed to manufacture new and innovative products. The Pilot Lines will focus on health applications, flexible organic light-emitting diodes and sensors for the detection of chemicals in gas and liquids. The European Commission has invested €35 million in these projects to boost Europe's industrial competitiveness.
In the following you will find all information on the pilot lines and other Photonics PPP projects which support companies in the European Union.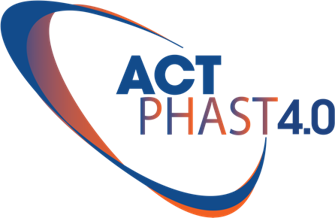 © ACTPHAST 4.0
ACTPHAST supports and accelerates the innovation capacity of European companies by providing them with direct access to the expertise and state-of-the-art facilities of Europe's leading photonics research centres (the ACTPHAST Partners), enabling companies to exploit the tremendous commercial potential of applied photonics. There are 23 research institutes who together make up the ACTPHAST Partners.
Together the ACTPHAST Partners provide a full spectrum of photonics technology platforms ranging from fibre optics and micro optics, to highly integrated photonic platforms, with capabilities extending from design through to full system prototyping.
ACTPHAST has been geographically configured to ensure all of Europe's companies can avail of timely, cost-effective, and low risk photonics innovation support, and that the extensive range of capabilities within the consortium can impact across a wide range of industrial sectors and application domains, from communications to consumer-related products, and life sciences to industrial manufacturing.
The access to top-level experts and leading photonics technology platforms provided by the ACTPHAST consortium is realized through focused innovation projects executed in relatively short timeframes (typically 6-9 months) with a critical mass of suitably qualified companies with high potential product concepts. As a result of these projects, the overall ACTPHAST program is expected to deliver a substantial increase in the revenues and employment numbers of the supported companies by supporting the development of new product opportunities and addressing emerging markets.
Furthermore, through its extensive outreach activities, ACTPHAST will ensure there is an increased level of awareness and understanding across European industries of the technical and commercial potential of photonics.
The ACTPHAST program is particularly suited to the needs of small to medium-sized enterprises (SMEs) who do not have the financial resources to invest in in-house R&D expertise and state-of-the-art technologies, nor to undertake risky innovation projects. ACTPHAST support is 100% subsidized for projects undertaken with SMEs.
ACTPHAST is designed to provide open access to photonics innovation support for all European companies who meet the eligibility criteria, and we have strict governance structures and systems in place around the key persons responsible for running the program to ensure that ACTPHAST remains true to its mission and mandate, and that all decisions are open, transparent and properly accounted for.
Find out more on the ACTPHAST website.

© PI-SCALE
PI-SCALE has the ambition to create a World-leading open access pilot line, based in Europe, for companies interested in the manufacture and system-level integration of flexible OLEDs into products. This will be achieved by bringing together the very best of the existing European infrastructure and knowhow on flexible OLEDs from different locations into one pilot line.
The pilot line service will enable companies of all sizes to quickly and cost effectively test and scale up their flexible OLED lighting or signage concepts and bring them to a level where they are ready to be transferred to a mass production facility. By increasing the availability of, and knowledge about, flexible OLED technology the pilot line aims to accelerate the commercial adoption of flexible OLEDs and help to build a sustainable industry in Europe around this technology.
Find out more on the PI-SCALE website

© MIRPHAB
MIRPHAB is an EC funded project with the goal of creating a commercially viable pilot line for the fabrication of mid-infrared sensors that is ready for business by 2020.
There is a growing interest in achieving new chemical sensing devices able to provide enough roughness, in-situ detection and selectivity.
These new tools should be easily integrated in other systems; to analyse the quality and composition of the products at the petrochemical and pharmaceutical industry, to evaluate harmful emissions in automotive and environmental monitoring, and to provide with non-invasive devices the medical diagnostics field. One could even dream about sensors integrated in our fridges scanning for bacteria that would notify about which foods are in bad conditions.
Find out more on the MIRPHAB website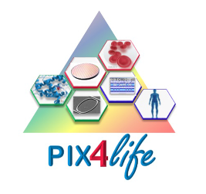 © PIX4life
In PIX4life we aim to mature a high performance, high yielding and CMOS-processing compatible SiN Photonic IC pilot line together with the accompanying supply chain for applications in the visible range (400-1000 nm) in order to become the world's premier pilot line for multitype integrated biophotonic applications.
PIX4life will enable miniaturizing and increasing the cost effectiveness of bulky, expensive optical life science systems. We will pave the way towards making the platform available in open access for a broader number of customers from the (bio-)photonic and life science communities with industrial development in mind.
Find out more on the PIX4life website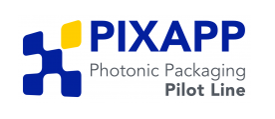 © PIXAPP
PIXAPP is the world's first open-access Photonic Integrated Circuit (PIC) Assembly and Packaging Pilot line, and helps users exploit the breakthrough advantages of PIC technologies.
PIXAPP consists of a highly-interdisciplinary team of Europe's leading industrial & research organisations, and provides users with single-point access to PIC assembly and packaging.
The Pilot Line Gateway Office is PIXAPP's the easy-access interface for external users, and is located at the Tyndall National Institute, in Ireland.
The Gateway is managed by an experienced team, including technical experts to review incoming user requests, and project managers to organise the PIXAPP supply chain.
PIXAPP bridges the 'valley of death' often associated with moving from prototyping to low-volume fabrication, by giving companies an easy-access route to transferring R&D results to the market.
Find more information on the PIXAPP website

© EPRISE
EPRISE provides a series of European photonics workshops, with the aim of providing SMEs with solutions on how to overcome the market barriers and boost collaboration via pre-arranged B2B meetings.
The project will also look to coordinate regional, national and European strategies and financial resources to the benefit of the local ecosystem and the regional smart specialisation strategies.
Companies developing photonics-based products for these markets face highly specific Go-to-Market challenges such as long time to market adoption, complex regulatory frameworks and high barriers to market entry to name but a few. They are often in need of support from public funding to help them cross the "Valley of Death" between innovation and commercialisation.
Photonics has been selected by the European Commission as one of the key enabling technologies to furthering technology in Healthcare and Agriculture and Food.
Find out more on the EPRISE website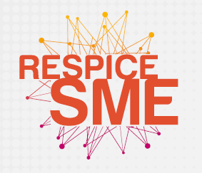 © RespiceSME
The RespiceSME project aims to reinforce the innovative capacity of Europe's photonics Small and Medium Enterprises (SMEs), clusters and national platforms by stimulating targeted collaborations in and beyond photonics. RespiceSME proposes new approaches for stronger innovative effectiveness using a 3-dimensional approach. In the first dimension, RespiceSME will evaluate and stimulate the innovation potential in order to strengthen the innovation capacity of high-tech photonics SMEs. In the second dimension, RespiceSME will enhance the global technological exploitation of photonics innovation capacity by analysing different value chains valuable for high-tech photonics SMEs.
This will allow significant leveraging of non-photonic sectors such as Environment / Energy, Transport, and Manufacturing, thereby, enabling the penetration of new markets and/or new application areas close to markets.
The third dimension focuses on creating a bridge over the 'Valley of Death' to increase the competitiveness of the European photonics sector by developing Best Practices for enabling photonics SMEs access to European and regional Research Technology Organisations, harnessing educational and training programmes aligned with their specific needs, determining next generation regional innovative smart specialisation strategies and providing access to public and private financial supports.
Find out more on the RespiceSME website