The Photonics Public Private Partnership acts as a "mouthpiece" of the European Technology Platform Photonics21 (and its more than 2500 members) towards the European Commission.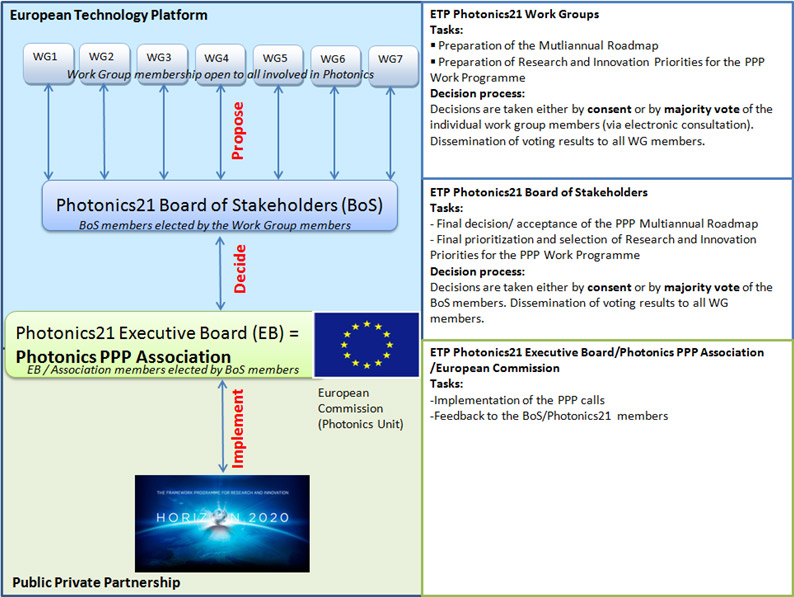 Overview: Tasks, responsibilities and process
The strategy development and the identification of research and innovation priorities includes the three organisational layers of the European Technology Platform Photonics21 with following roles and tasks:
The Work Groups (WGs) are the major source of strategy (Multiannual Roadmap & R&I priorities) development within the ETP Photonics21.
As the main decision-making body of the ETP Photonics21 the Board of Stakeholders (BoS) reviews the outcomes of the work group strategy and votes on the overall priorities and focus of the PPP activities.
The Executive Board (EB) / Photonics21 Association coordinates the input of the work groups and executes the decisions of the Board of Stakeholders. In this role it will be the mouthpiece.
For detailed description of the decision making principles and the process please go to photonics-ppp_research--innovation-process.pdf.
To view the associated documents of the Photonics21 Platform as well as the newly formed Photonics PPP Association please go to the following links:
Photonics Association
Photonics Public Private Partnership
European Technology Platform Photonics21