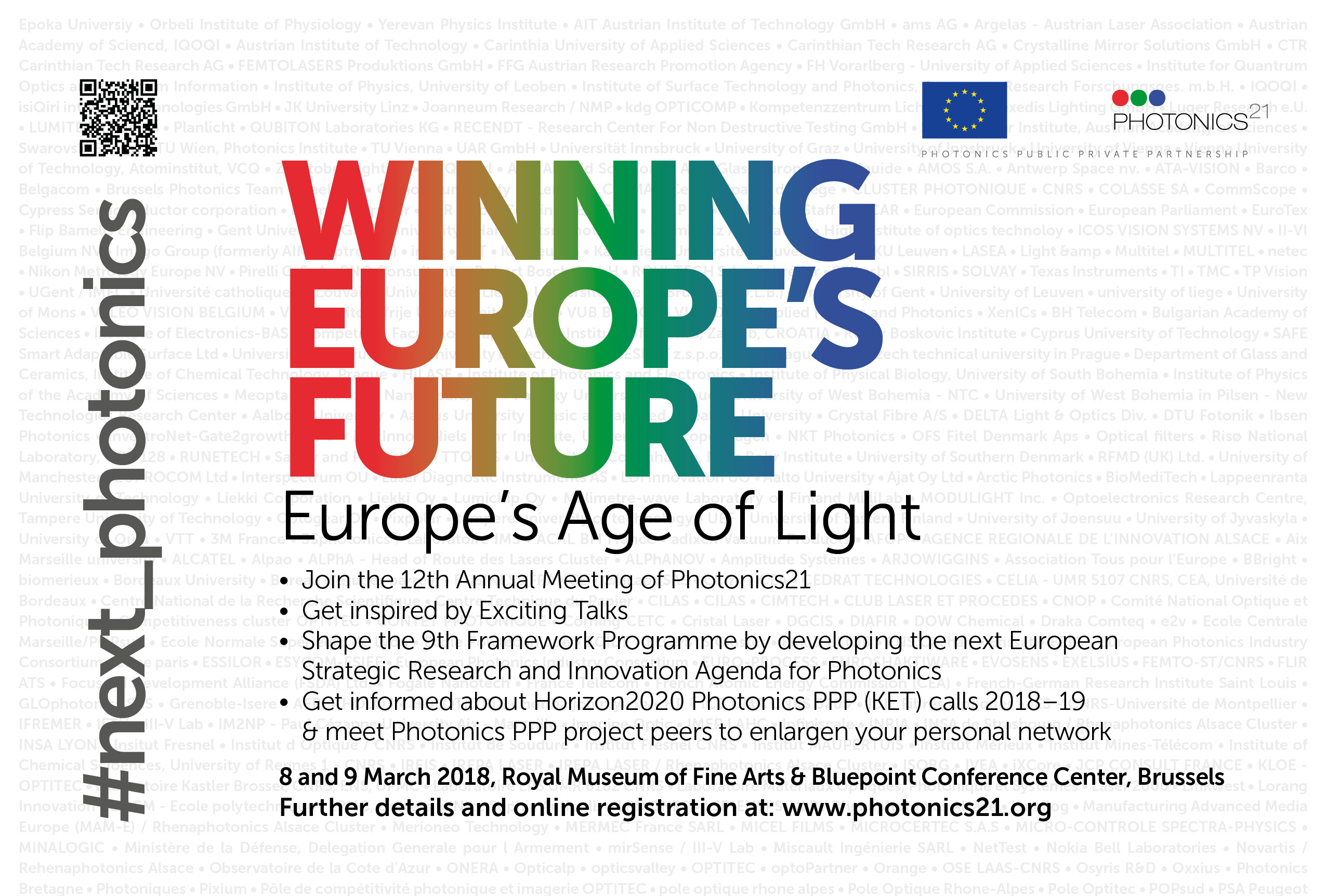 2018 22 March
The #next.photonics_forum entitled "Winning the future - Europe's age of light" will be held on 8th and 9th March 2018 in the Museum of Fine Arts/Musées Royaux des Beaux Arts and the Bluepoint Conference Centre in Brussels.The annual event continues the further strategy development of the Photonics Public Private Partnership in preparation of the new EU framework programme. On the second event day the European photonics community will launch the strategy process for a new photonics multiannual roadmap for the next 10 years. As inspiration for this strategy process the symposium on the first day will cover some high level ignite talks providing a global view on Digitisation and Internet of Things as well as latest developments in Industry 4.0 and Virtual and Augmented Reality.
Online Registration
Benefit of the early bird rate and register now via the online registration.
Please note that the early bird rate is only available until 29 January 2018.
Draft Programme
You can download the draft programme.
Event Locations
The symposium and networking dinner on 8th March 2018 will be held in the Museum of Fine Arts:
Musées Royaux des Beaux-Arts, Rue de la Régence 3, 1000 Brussels
The workshops sessions on 9th March 2018 will be held in the conference centre Bluepoint Brussels:
Bluepoint Brussels, Boulevard Auguste Reyers 80, 1030 Brussels
Download an overview how to get to the event locations
Become a sponsor
Increase your visibility to the photonics community and the political representatives of the European Commission and the European Parliament and support the most influential European photonics network! All sponsors will be provided a prominent presence at the event and related communication activities.
You will find any further details in the sponsoring package.
So far the event is kindly sponsored by EPIC, Fraunhofer ILT, Hamamatsu, SPIE Europe, OSRAM, OSA, TRUMPF and the European Commission: